Meet Ted Y.T. Fang, DDS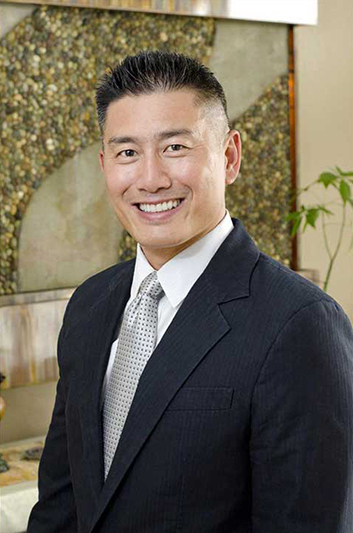 My profession means a constant commitment to patient care. I feel that being caring and compassionate to patients' wants and needs is very important. Working with unique people every day creates a positive challenge. Experiencing different types of patients and personalities has helped me become a better listener, a better dentist, and a better person, all in order to give each patient the individual care and comfort they deserve. I find it rewarding to help my patients become educated and improve their overall dental and oral health. I truly feel that I can make a difference in my patients' lives by instilling the value of good dentistry. It is my privilege to play a pivotal role in their primary goal of keeping their teeth for the rest of their lives.
A Foundation in Knowledge
Receiving a high quality education was the first step to ensuring my patients receive the best care possible. My undergraduate studies were completed in Cleveland, Ohio at Case Western Reserve University. I graduated from New York University College of Dentistry in 1995 with my Doctorate of Dental Surgery.
Continuing in Excellence
I feel that the best way to serve my patients is to keep up with the progressive and innovative techniques that dentistry offers. Being current and progressive allows me to deliver the highest level of patient care, quality, and comfort. These state-of-the-art techniques provides the best and most long lasting results and will allow my patients to fulfill their long term dental goal of keeping their teeth and enhancing their smiles.
I'm passionate about being the best dentist that I can be by investing in new technology, constantly taking classes, and furthering my education/ knowledge in my field to provide the best care for my patients. I've worked hard to continue my education through the prestigious Las Vegas Institute of Advanced Dental Studies (LVI) and the Dental Organization for Conscious Sedation (DOCS) in order to provide my patients with the best possible comfort and care. I have also completed a ten-month surgical and restorative dental implant residency at the Titanium Implant Institute of California. This extensive program, sponsored by Nobel Biocare, gave me invaluable skills to confidently place and restore dental implants.
Staying Involved
I am an active member in numerous professional organizations including the American Dental Association, the California Dental Association, the San Fernando Dental Society, the American Academy of Cosmetic Dentistry, the American Academy of Implant Dentistry, and the International Dental Implant Association.
My passion for CEREC® and digital dentistry has allowed me to volunteer my time a few times a year as a mentor at the Scottsdale Center for Dentistry, teaching/mentoring other dentist in the knowledge that I utilize on a daily basis in my office. I was also selected by my local dental supply company, Patterson Dental, to be an in-office CEREC trainer to help provide further training for new CEREC dentists.
As an office, we are also active in our community. We've held the annual Dr. Ted Fang Blood Drive, sponsored by the American Red Cross, for the past ten years. I also have sponsored and donated to numerous charities, most notably to the American Cancer Society, the Children's Hospital of Los Angeles, and local community athletic and theater organizations.
Outside the Office
I am a native of Kingston, NY and currently live in Porter Ranch with my lovely wife, Jane. She is also a fellow dentist practicing in Thousand Oaks, CA. On a personal level, my wife and I participated in a mission trip to the Dominican Republic, sponsored by the International Dental Implant Association. During that time we donated 30 hours of dental implant surgeries to the local community of San Pedro De Macoris.
On my off days, you can usually find me out on the golf course or at the driving range hitting balls with the goal of one day becoming an elite golfer. I also like to take care of myself physically by working out in the gym or hiking on a nearby trail. I make it a point to travel and experience different countries and cultures as often as possible. Also, on the weekends, you can find me and my wife eating at a highly-rated Yelp-endorsed restaurant followed up with a blockbuster movie at our favorite local theater.